Josef Strauss (1827-1870)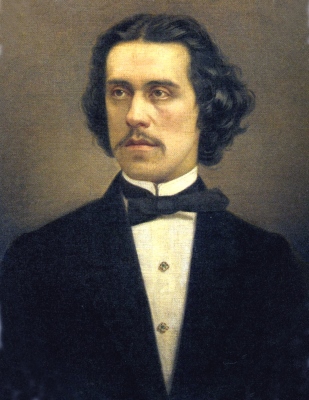 The second of Johann Strauss the elder's sons, Josef, was born in Vienna on 20 August 1827. After completing his formal education he studied mechanical engineering, opposing his father's wish that he should enlist in the army, and embarked upon a career as an architectural draughtsman and foreman, in which field he soon distinguished himself.
In his spare time he put to good use his talents as an artist, painter, poet, dramatist, singer, composer and inventor - he designed the horse-drawn forerunner of today's revolving-brush street-sweeping vehicles - and also published two textbooks on mathematical subjects.
The shy and sensitive Josef Strauss was coerced into deputising for his brother Johann when the latter's doctors prescribed for him a lengthy rest cure in 1853. Although temporarily relinquishing the post of 'interim conductor' upon Johann's return, Josef soon abandoned his own career and joined the family music 'business' full time. A remarkably versatile, gifted and prolific composer - Johann once said of him: "Pepi (Josef) is the more gifted of us two; I am merely the more popular..." - Josef left more than 300 original dances and marches, as well as 500 arrangements of music by other composers.
He died in Vienna on 22 July 1870, following a fall from the conductor's podium, and is best remembered today as composer of the waltzes Dorfschwalben aus Österreich (Village Swallows from Austria, 1864), Geheime Anziehungskräfte, Dynamiden (The Mysterious Powers of Magnetism, 1865) and Sphären-Klänge (Music of the Spheres, 1868) as well as co-writing the Pizzicato-Polka (1869) with his brother Johann.
Biography © 1996-2001. Peter Kemp, The Johann Strauss Society of Great Britain
All text and pictures © The Johann Strauss Society of Great Britain, 1997-2023, unless otherwise acknowledged or indicated. Trademarks and other copyrights acknowledged as belonging to their owners.